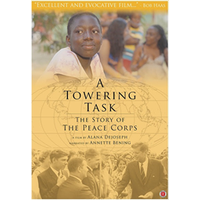 The RPCVs of NENY fundraiser and film screening was a success! Due to COVID-19, we have not been able to do our usual fundraising events. The funds raised from this event will go towards local/national/international projects supported by RPCVs of NENY. Thank you to everyone who purchased tickets to view the documentary film, "A Towering Task: The Story of the Peace Corps" and shared this virtual film screening opportunity with friends/family. Between the tickets sold and the donations, RPCVs of NENY made just over $750!
In addition to the film screening, we held a film discussion at our October virtual meeting. We were joined by the film producer/director, Alana DeJoseph and NPCA President, Glenn Blumhorst. There was a great discussion and interesting information shared on the making of the film and the future of Peace Corps. Click here to view the discussion.
Thank you all again for your support! And special thanks to Alana and Glenn for joining our meeting for the film discussion and a thank you to RPCVs of NENY Vice President, David Gittelman and Advocacy Coordinator, Sue Senecah for all their work in organizing this event.
---