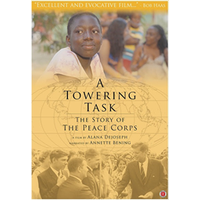 RPCVs of NENY is hosting a screening of the film, "A Towering Task: The Story of The Peace Corps" from September 4- October 5, 2020. During that time, you can buy a ticket for $10 which then allows you to view the film virtually over 72 hours/3 days!
When you buy a ticket, 50% of the proceeds go straight to the RPCVs of NENY so that the group can continue to support important projects. Not only is this a great opportunity to spread the Peace Corps story and highlight its value today, this is also a way to help fill the group's fundraising gap created by COVID-19 and allow RPCVs of NENY to continue supporting projects.
Members of RPCVs of NENY are encouraged to spread the word and share this event flyer: RPCVs NENY Peace Corps Story
Click here to buy your ticket to view the film!
You can also make a donation directly to RPCVs of NENY in lieu of buying a ticket for the film via PayPal (rpcvneny@gmail.com) and please include in the transaction note that it is a donation for the film screening. If you do not want to use PayPal, you can give funds through the DONATE tab on this website. Also, you have the option to purchase a ticket for someone else to view the film through the film website above.
As a special bonus for members of RPCVs of NENY, the film's producer/director Alana DeJoseph and NPCA President Glenn Blumhorst will join the Oct. 6, 2020 RPCVs of NENY virtual meeting for a special Q & A discussion!
A TOWERING TASK is the 2019 documentary that puts a human face on the story of the Peace Corps. Narrated by Annette Benning, A Towering Task tells the remarkable story of the Peace Corps and takes viewers on a journey of what it means to be a global citizen, a welcome message anytime but especially in today's world.
Check out the film trailer here!
---