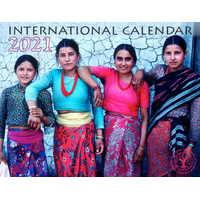 The 2021 International Calendars are now available for $15 each! They are a great fundraiser for our group, allowing us to continue to support our efforts to fulfill the 3rd goal. In addition to that, they're really cool! Each day tells you what celebration is going on in which part of the world and also includes recipes to try, music to check out, and interesting international films and literature to try. See a preview of the calendar here
Joan and Harry Thornhill are coordinating the purchase of calendars this year and they have 100 calendars available.
You can contact Joan and Harry to order and they will deliver several orders near the same location or you can pick up the calendars at their home (might also be able to mail calendars as well). To contact Joan and Harry: phone number is: 518-399-7758 or e-mail is: harrythornhill@hotmail.com.
For payment: You can send a check made out to RPCVs of NENY to
Joan and Harry Thornhill
23 Jennifer Road
Glenville, NYU 12302
Or send the payment by PayPal to rpcvneny@gmail.com and be sure to add a message saying your name and for how many calendars. Also choose the friends and family payment type so that there isn't a fee.
---